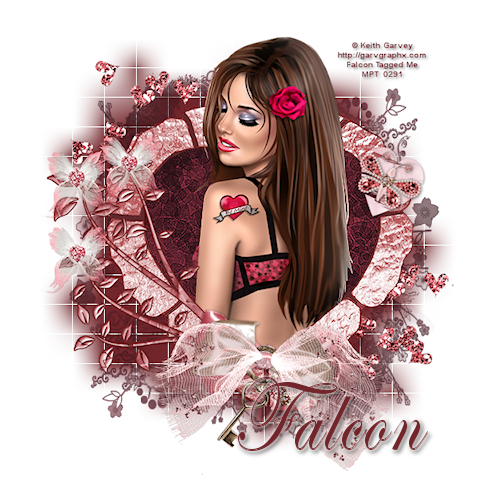 SUPPLIES NEEDED
PSP X2 ( any version will work)
Tube of Choice
I used artwork by Keith Garvey. You can purchase it
Here
Scrap kit Heart Sparkles PTU by KatnKda
HERE
Or Masks of Choice.
* LETS BEGIN *
1. Open new Image 600 x 600 ( we can crop and resize later)
2. Add a new layer and flood fill with #72262b add your mask I used Mask 2 that comes with kit.
Layers / merge layers.
3. Select Element 14 copy / paste /resize. With Magic Wand click inside heart frame then Select / Modify /
Expand by 6, Copy and Paste Paper 17 or your choice Select / Invert / Delete. Move below frame.
4. Copy / Paste Element 45 resize 2 x 50%. Image / free rotate 25 % Right. See tag for placement.
5. Add tube of choice, erase any parts showing that you need to. Resize if necessary.
6. Add any other Elements you wish to use. I used the following Elements 2, 5, 10, 19, 33 and 52.
7. Add new layer, Flood fill with #72262b, Add mask of choiceor the one I used WSL_mask, Layers /
Merge / Merge Group.
8. Crop and resize the tag add your © and info
9. Add your name.
10. If happy save as a png and your done.
Thanks and I hope you enjoyed trying my Tutorial.
I would love to see your creation.