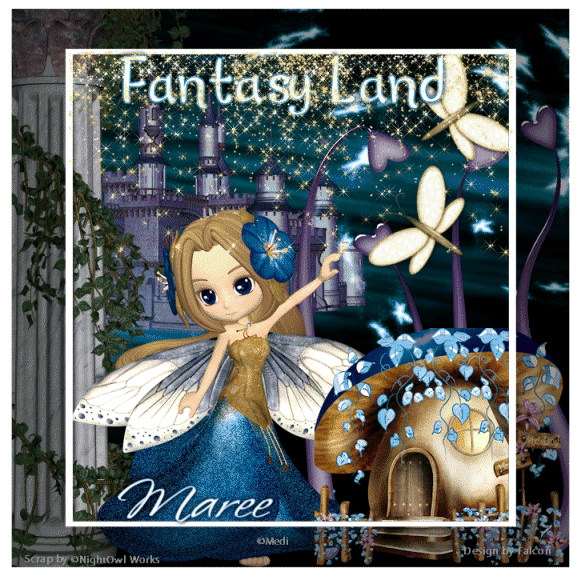 Supplies Needed
Tube or Image of choice.
Scrapkit , I am using FantasticLand by Netti NightOwl Works ,
Font:Whisper
You will need a shower bling if you I can not supply
the one I used as I do not know who created it.
Remember to Save Often!!!
Let's begin
Open new image 600 x 600. New layer selections select all then,
Copy paste nnwflandpaper 13 into selection, deselect.
Copy paste nnwflandcastle1 resize by 25 percent
place on left side centered,Lower the Opacity to 45.
Copy paste nnwflandcolumn1 resize by 28 percent
place on left side layer.
Copy paste nnwflandheartsprig4 resize by 50 percent place
on right side of layer bottom.
Copy paste nnwflandhousescene resize by 35 percent
place bottom right corner.
Copy paste nnwflandfly4 resize by 32 percent duplicate then
using your pick tool angle both till your happy with placement.
Copy paste nnwflandflyfae2 resize by 45 percent.
Duplicate this layer twice
Using your Freehand selection Tool outline the dress of the fae,
then go to Adjust-Add Noise with these settings.
Repeat on fae layer2 n 3 increasing to 35 then 40.
Click on your paper layer then Image Picture frame an
find this frame using these settings.
Add your Artist © and your name then crop and save.
This is only a guide and feel free to use any other element you wish.
Most of all have fun creating.
Animation
Open your Animation shop then click back to PSP.
Click in psp then X-out fae layer 2 and 3. Edit-Copy special copy merged then
paste as new animation in As.
Back in psp, X-out fae layer 1 then open fae layer 2, copy special-copy merged,
paste After last animation.
In Psps X-out fae layer 2 then open layer 3, copy special-copy merged, paste.
Resize your animation then save as a Gif.
This tutorial was written by Maree (aka Falcon) on
Any similarities to this tutorial are purely coincidental
© Maree