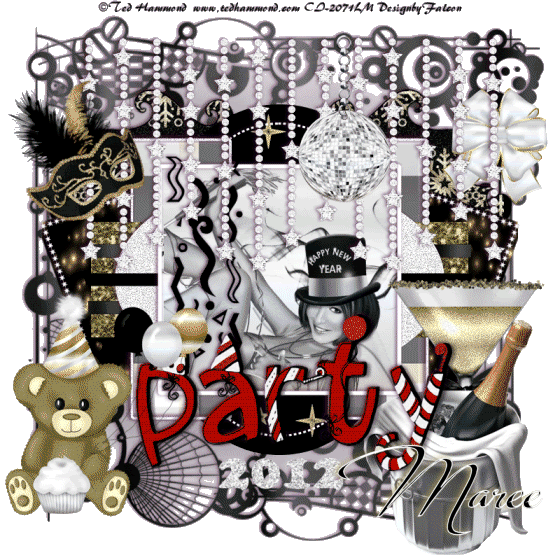 My Tutorials are strictly my own creations,
if they resemble another it is purely coincidence.
This was written with the use of PSP X2.
You may create it any version of PSP.
Scrap New Year by Scottishbutterfly Creations.
You can purchase it at
Exquisite Scraps.
I'm using the artwork of ©Ted Hammond Currently available at
CDO
I purchased this tube at MPT and using the relevant license.
Font:Of Choice

Laurie Made Me Mask_159
Here
.

Template by KanDeeNewYear1
Here
.
Dont forget to leave some love for the creators.
Open your template then delete the © layer.
Click on Mat paterened layer Selections Select All Float Defloat.
Open Paper5 copy paste as new layer resize 80% Selections Invert Delete. Now Delete the orignal layer.
Conitnue repeat with other layers I used the following.Resize all paper's 80%.
Paper13 Black side squares layer
Paper14 Long frame backs layer
Paper3 Red Squares layer
Paper11 Large frame back layer
Paper4 mask layer
These are the Elements I used arrange them to your liking resize where needed.
Bow
Bear2
Ball & Chain
Champaine
Eye Mask2
Martini
Stars
On your 2012 layer Duplicate twice closeout layers 2 & 3.
Using your Freehand Selection Tool draw around the yellow section of glass.
Duplicate your Star & Marini layers closeout layers 2 & 3.
Adjust Add Noise-using these settings:
Repeat for Star & Martini layers 1.
Then close out 2012, Martini & Star layers- 1.
Repeat for layer 2 & 3 of
2012,Martini & Star. adding the noise levels for each layer.
Layer 2 Noise 25
Layer 3 Noise 30.
Remember to close out each layer when applying Noise to the next layer.
Add your Artist © and your name.
This is only a guide and feel free to use any other element you wish.
Most of all have fun creating.

Animation.


Open Animation shop then click back to psp.
Open layer 1 of 2012 Martini Star layers.
Make sure all layers 2 & 3 of these layers are closed out.
Edit Copy Special - Copy Merged. Click into AS
Right click paste as new Animation.
Back in Psp closeout all Layer1, then Open layers 2.
Click into AS click on frame Edit Paste After Current Frame.
Back in Psp closeout all Layer 2, then Open layers 3.
Click into AS click on frame Edit Paste After Current Frame.


Check your animation if Happy save as a Gif.

Written and copyrighted to Maree (aka Falcon) 2011.