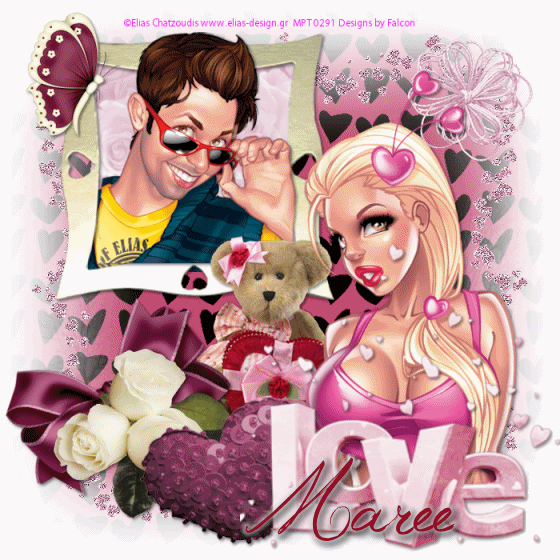 Supplies
I'm using the artwork of Elias Chatzoudis , you find it them at
MPT
I used 2 tubes.
Scrap kit Creme Valentine -PTU by Destiny Scrap Designs.
Font:Jelly Western Princess
Drop Shadow of choice.
HorsePlay's Pastures mask_11
Here
Remember to Save Often!!!
Let's create
Open new image 650 x 650 flood fill with #ffffff.
New layer open DSD_CremeValentine_paper3 apply mask/merge group.
Open DSD_CremeValentine_Element_12 duplicate twice.
Layer 1 Adjust/Add Noise-25 repeat for layer 2-increase 30 & 3-increase 35.
Open DSD_CremeValentine_Element_07 paste to left of layer.
Add your 1st tube now and resize to fit frame.
Add your 2nd tube move to right of layer.
Open DSD_CremeValentine_Element_29 resize 75% move to top right of heart frame.
Open DSD_CremeValentine_Element_19 resize 68% move to bottom right of layer.
Open DSD_CremeValentine_Element_32 resize38% move to left of layer below frame.
Open DSD_CremeValentine_Element_28 resize 37% move next to wordart.
Open DSD_CremeValentine_Element_37 resize 28% move to left of layer,
Open DSD_CremeValentine_Element_26 resize26% move next to ribbon.
Open DSD_CremeValentine_Element_40 resize 22% move to left of frame.
Give all execpt your duplicated frame layers a Drop Shadow.
Open Animation Shop.
Add your Artist © and your name then crop and save.
This is only a guide and feel free to use any other element you wish.
Most of all have fun creating.
Animate.
1.X- out frame layers 2 & 3 click on 1st frame layer
Copy Special/copy merged paste in AS.
2. Repeat this for layers 2 & 3 pasting after current frame.
3.Resize animation if needed.
4. Save as a Gif.
If you wish to email me your creation, I then can show off your wonderful creations.
Thank you for using my tutorial.
Written by Maree (aka Falcon) on 28 January 2011
Any similarities to this tutorial are purely coincidental
© Maree(aka Falcon)