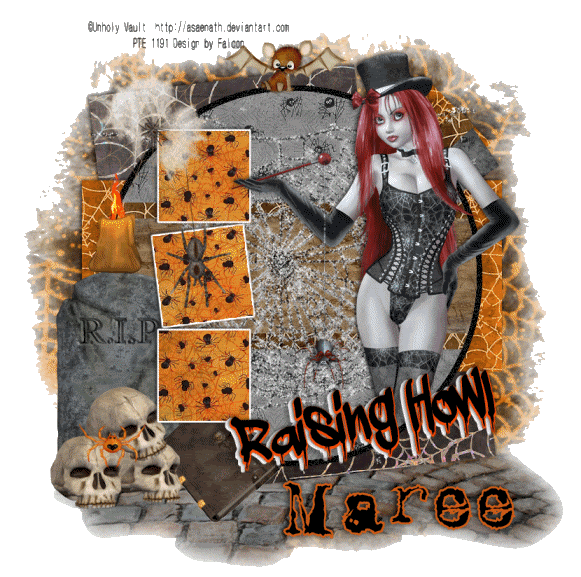 My Tutorials are strictly my own creations, if they resemble another it is purely coincidence.
This was written with the use of PSP X2. You may create it in any version of PSP.

Supplies Needed.
Scrap kit Spider Delight from Dnscraps.You can get
Here
.
Art work by UnHoly Vault. Remember to purchase a license to use this art work.
You can do so
Here.
Font:Metalic Avacodo
Mask:Designs by Vaybs DVB_111
Here
Plugin-Xfeno 2-Constellation
Animation Shop
Template by Dee's Designs-Halloween.
Please remember to leave some love♥
C/P = copy and paste
Open template then delete © layer.
Select left purple square laer. Selections/Float/Defloat.
New layer copy paste Spiderdelightpaperdn position, hit delete.Repeat for right
purple square layer.
Repeat for all other layers using different papers of choice.
Remeber to delete the original layer/s.
C/P Spiderdelightdn2 position, see tag.
C/P medi_gravebag43 position on left of layer resize 42%
, add drop shadow.
C/P Spiderdelightbook resize 25% then use Pick tool to angle to the left,
add drop shadow.
C/P Spiderdelightskulls place on left of layer resize 35%,
C/P Spiderdelightspiderlightdn place on top on gravestone,
add drop shadow.
C/P Spiderdelightspiderdn5 position on top square.
Add drop shadow.
C/P your tube below wordaart layer, resize if needed,
add drop shadow.
C/P Spiderdelightbabybat resize 25% position at top of circle,
add drop shadow.
C/P Spiderdelightstone above background layer position at bottom of layer.
Click on wordart white layer.Selections/Select all/Float/Defloat, new layer.
Change your BG color palatte to #fb4b04.Use your Flood fill new layer, deselect.
You will have 4 layers of wordart, move the bottom 3 layers till you
have the desired affect.
C/P Spiderdelightpaperdn12 as new layer, apply mask/merge/merge group.
Add your Artist © and your name then crop and save if you dont wish to Animate.
This is only a guide and feel free to use any other element you wish.
Most of all have fun creating.
Animation
Open Animation shop then click on psp.
Click on spiderweb layer and duplicate twice rename layers web 1,2,and 3.
Click on web 1 layer then Effects-Xfeno2-Constellation apply these settings:


Repeat for web layers 2 and 3 remember to click Random seed button
once for each layer.
Close out web layers 2 & 3. Edit/copy special/copy merged.
Click into AS right click Paste as New Animation.
Back in Psp closeout web layer1 open 2,Paste click in As Paste after current frame.
Do this again for web layer 3.
Select All (ctrl+A)then Alt+Enter change Frame Propeties to 25.
Save as Gif.
Written and copyrighted to Maree (aka Falcon) 2011.
Under no uncertain terms are you allowed to make money
from anything produced from this tut, this is against my TOU's.