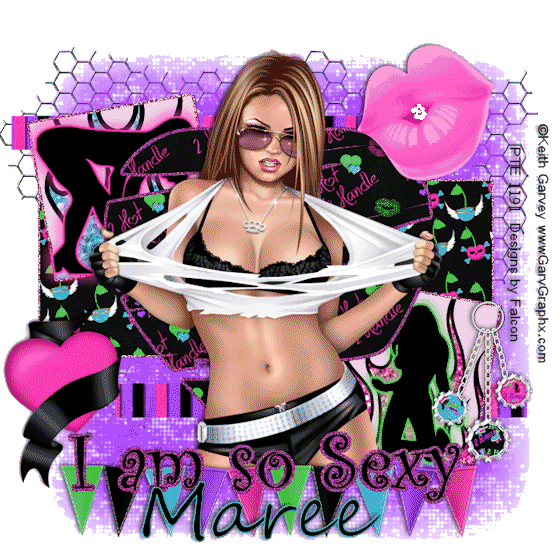 For this Tutorial you will need.
A Tube of your choice I am using the awesome artwork of © Keith Garvey,
which you must have a license to use you can get one at
PTE
.
Elements and Papers are from a scrap kit called 2Hot2Handle by Tammy,
*Tammy's Scraps*you can purchase it
Here.
Font: Segeo Script
Drop Shadow of choice.
Mask*Dee's Design Depot*, it's #DD20 you can download it
Here
Remember to Save Often!!!
Let's create
Open your template delete the © layer and Raster layers 5 & 12.
On Vector 3 layer Select All/Float/Defloat/ paste as new layer 2Hot2Handle Paper 12.
Selections/Invert/Delete.Repeat with Vector 2 layer.
Select Raster5 layer Selections/Float/Defloat/ paste 2Hot2Handle Paper14 resize
65%/Selections/Invert/Delete. Delete origianl layer.
On Raster12 Select all/float/defloat/paste 2Hot2Handle Paper8 resize
65%/Selections/Invert/Delete. Delete original layer.
Select Raster7 select all copy pasteinto selection
2Hot2HandleElement62,Selections/delete/deselet. Repeat
this time using 2Hot2Handle Element81.
Repeat for Raster8 this time using 2Hot2Handle Elements 63 and 82.
Select 2Hot2Handle Element22 resize 45% place on corner of Raster 7 frame.
Select your tube and place in center of layer, add a drop shadow.
Select 2Hot2Handle Element 42 paste above your tube layer
then resize 65% move to lower part of tube.
Select 2Hot2Handle Element4 paste above raster 11, add a drop shadow.
Select 2Hot2Handle Element8 past reisze 85% move to right top of layer,
add a drop shadow.
Add new layer select all paste into selection 2Hot2Handle paper 4/deselect
then apply mask/merge group.
Select 2Hot2Handle Element 77 paste below mask layer then resize 85%
, add a drop shadow.
Add your Artist © and your name then crop and save.
This is only a guide and feel free to use any other element you wish.
Most of all have fun creating.
If you wish to show off your creations.Email me your creation and I will place it
on my show off Page. Thank you for using my tutorial.
Written and copyrighted to Maree (aka Falcon) on 9th May 2011.
Under no uncertain terms are you allowed to make money from anything
produced from this tut,this is against my TOU's.
Any similarities to this tutorial are purely coincidental.