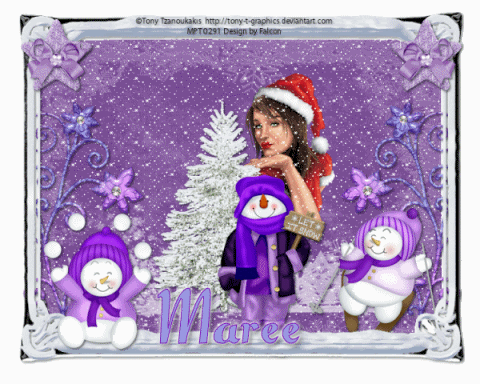 Supplies Needed
Tube I'm using,Tony Tzanoukakis you purchase
Here
Scrapkit by Sweet Occasion Designs called Let it Snow,Let it Snow PTU,
Here
.
Font: Candlemas
Drop Shadow 1/1/50/4
VDL Adrenaline-SnowScape
Remember to Save Often!!!
Let's create
Open new image 700 x 600.
Open aos frame 6 resize 75 percent click inside with magic wand.
Open aos paper10, new layer paste into selection, deselect.
Click on frame layer using Snowscape with these settings:
LovelyFlowers_Flower5_Scrape and Tubes resize 75 percentmove to right duplicate, mirror.
OPen snowmaan2 reisize 26 pecent place left side of frame,give a drop shadow.
Open snowman3 mirror then resize 25 pecent place lower right side.
open snowTrees_Tree2_Scrap and tubes resize 75 percent place in center of frame.
Open tube resize to fit then move behind tree, see tag.
Open snowman* resize 73 percent plae to right of tree,see tag.
Open button 2 resize 38 percent, duplicate-mirror place top corners.
Open DRA BOW 6 resize 35 percent place on top of button, duplicate-mirror.
Give all a drop shadow.
If you wish to animate please continue.
Add your Artist © and your name then crop and save.
This is only a guide and feel free to use any other element you wish.
Most of all have fun creating.
Open Animation Shop
In psp X-out all layers except background and paper layers,
copy paste into AS as new animation, duplicate it 4 times (ctrl+L)
,you now should have 5 frames.
Open your snow using Ctrl+A to select all copy paste Into selected frame.
Back in psp open all layers then X-out background and paper layers
Copy merged-copy special
in As paste as new animation. Copy paste into selection.
Save as a Gif.
If you wish to email me your creation, I then can show off your wonderful creations.
Thank you for using my tutorial.
Written by Maree (aka Falcon) on
Any similarities to this tutorial are purely coincidental
© Maree(aka Falcon)