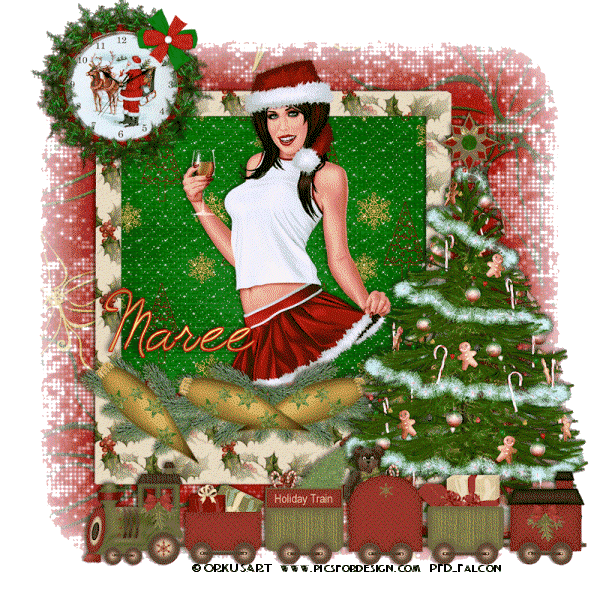 My Tutorials are strictly my own creations,
if they resemble another it is purely coincidence.
This was written with the use of PSP X2.
You may create it any version of PSP.


Supplies Needed.
Art work by ORKUSART . Remember to purchase a license to use this art work.
Font:2Peas My Muse or your choice
Mask by Dee's Sign Depot DDMask20
Here.
Please leave Deanna some love.
Animation Shop
I used the snow animation from this site or you may use your own. Snow
Here.
Image is better to have larger to work with then we can crop and resize when completed.
Open 700 X 700transparent Image.
Open kk_TTS_Frameo2.Click inside with Magic wand Selections Modify Expand by 4.
Open kk_TTS_Paper20 copy paste as new layer resize 65% arrange to your liking.
SelectionsInvert hit Delete. Move below frame layer.
Give your frame a drop shadow.
Open kk_TTS_clock copy paste as new layer resize 55% arrange on top left of frame.
Add drop shadow.
Open kk_TTS_Frame05 coopy paste as new layer arrange on clock resize to fit.
Add your tube now arrange in frame.Add drop shadow.
Open kk_TTS_christmasTree copy paste as new layer arrange on right of frame
resize 75% add drop shadow.
Open kk_TTS_holidayTrain copy paste as new layer resize 85% arrange at bottom of frame
Add dropshadow.
New layer Selections Select All open kk_TTS_Paper02 copy paste into selection-deselect.
Apply mask merge merge group.
Add your Artist © and your name.
This is only a guide and feel free to use any other element you wish.
Most of all have fun creating.
If you wish to animate the tag please continue.
Animation


Open Animation shop then click back into Psp.


Close out all layers except Mask and frame paper layers.
Edit Copy Special Copy Merged.Click in AS right click Paste as New Animation.
Using Ctrl + Lhit the key 4 times. You now have 5 frames.
Edit Select All frames.
Open your snow animation Select All-Animation-
Resize Animation by 50%.
Make sure you have selected the Propagate Paste button.
Click on 1st frame Edit Paste-Into Selection
Click back into Psp close out bottom 2 layers. Open the other layers.
Edit Copy Special - Copy Merged.Click into AS paste as new animation.
Right click copythen click on 1st frame right click Paste into selected frame
hold button down to you positiionthen let button go.

Check your animation if happy save as a Gif.
Written and copyrighted to Maree (aka Falcon) December 2011.
Under no uncertain terms are you allowed to make money
from anything produced from this tut, this is against my TOU's.